Polaroid l Friday June 5th l Weirdo Police - Live
2009-05-19, 09:37:22
polaroid
Banned
From:

Posts: 307
Joined: Oct 2005
Polaroid Friday June 5th

End Of Term Party

WEIRDO POLICE – Live
(2020 Vision/Bear Funk)
(Decks, FX, Guitars, Vocoders)
Reset* (Supernature)
Polaroid Soundsystem
11- late
£6/5nus
Email info@polaroidclub.co.uk for guestlist
Hype. A word often loosely bandied about in clubland without much merit, but in the case of our next guests one which is justly deserved. Weirdo Police are no wet behind the ears, fly by night producers with one debatable hit under their belts; Mat Playford and Tom Gray have been in the dance industry for over 10 years and boast several successful projects between them. Mat was the co-founder of the legendary Play Music record store in Leeds and has to date collaborated and released tracks with Darren Emerson, Tim Deluxe, Paul Woolford, Sandy Rivera, Robert Owens, Pete Herbert, Clive Henry and Steve Kotey. Mat has played across the globe from Ministry of Sound to Space and held his own with any big hitter you care to mention. Tom meanwhile, a diverse and accomplished musician in his own right is a record producer in the mainstream working across multiple genres for such major labels as Sony, Warner Brothers and Atlantic Records.
Now the pair are ready to unleash their live project Weirdo Police on the world. Fusing together live electronic funk, cosmic disco and a smattering of balearica all held together with good old fashioned acid house values, Weirdo Police have already released some well received singles on 2020 Vision, Bear Funk and Lo Recordings which have to date drawn features on them in style bibles i-D and New Order. Their forthcoming debut album is imminent and features guest appearances from Kathy Diamond, Mercury Music Prize winner Talvin Singh and Crazy P's Danni Moore and is currently courting major label interest. It looks set to be the soundtrack of the summer, backed up with some exciting live shows consisting of decks, fx, guitars and vocoders at Brighton Beachdown, Space Ibiza and more summer festival dates to follow. Quite frankly, you'd be a fool to miss them play an electrifying, intimate live show at Polaroid before things inevitably blow up for them later in the year.
http://www.polaroidclub.co.uk
http://www.myspace.com/polaroidclub
http://www.myspace.com/weirdorecords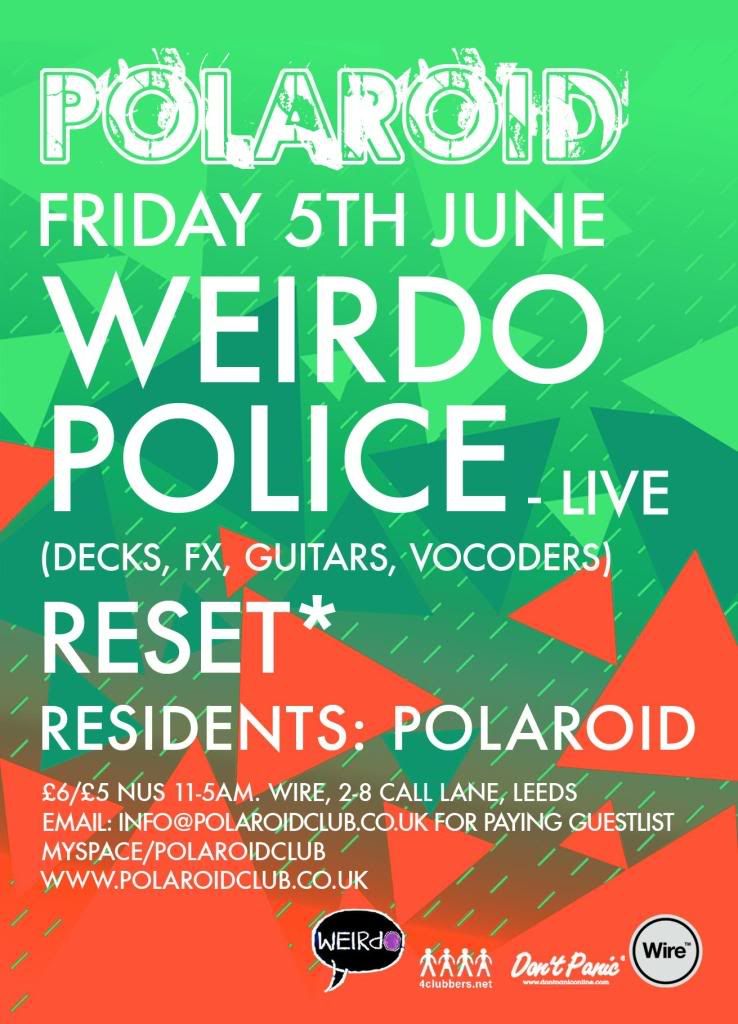 2009-05-21, 10:47:08
polaroid
Banned
From:

Posts: 307
Joined: Oct 2005
Here's a taste of what to expect....


2009-05-21, 19:50:09
bash
Dancing Queen
From: Leeds

Posts: 814
Joined: Jul 2008
looks interesting! may pop down : )
2009-06-02, 11:26:48
polaroid
Banned
From:

Posts: 307
Joined: Oct 2005
This Friday peeps. Dont forget to mail us for super cheap guest list action

:)