[SWEEP008] Steve Menta – Lie Train EP
2011-11-21, 18:36:04
Sweep 181
Please Be Gentle
From:

Posts: 9
Joined: Aug 2011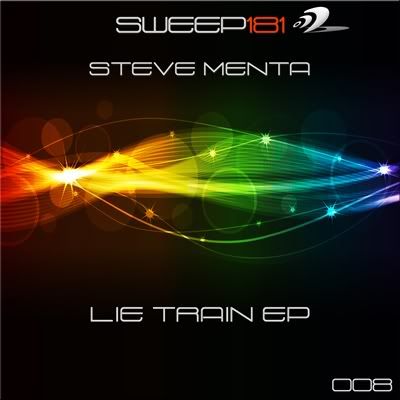 Steve Menta – Lie Train EP : Out now !
Listen and buy
@
BEATPORT
Steve Menta is the man behind the new classy 3 track EP on Sweep 181.
The EP got a very subtil and stylish Tech House groove.
The first track "Lie Train" is a catchy opener while the second one "Attraction" is a more dynamic and punchy track.
"Juicy Chicken", a Sweet and deep track is the last one of that new EP.
Feedbacks received :
Mark Knight (Toolroom)
- cool beats 8/10
Slam (Soma / Paragraph)
- sounds nice thanx
Lemon 8 (Armada / Frisky)
- I like Steve's style. very original sounding and funky. Full support. 8/10
Cristian Varela (Pornographic)
- Excellent! 8/10
Dave Seaman (Audiotherapy)
- nice EP 7/10
Fergie (Excentric / Rekluse)
- Attraction for me gus!
MANDY (Philipp)
- downloaded for M.A.N.D.Y. thank you for good music!
Nick Warren (Hope)
- Lie Train hits the spot for me 8/10
Dr. Motte (muzicr.de)
- Nice ! All tracks have a nice flow. Will try! Support on Musicr.de on release day.
Luigi Madonna (Drumcode / MKT / Material)
- nice music 9/10
Thomas Penton
- Cool little grooves. Attraction is pick.
Duca (Tribalvision)
- Attraction is for me! Very good, thanks!
Spikers
- Great works by my mate Steve! Hard to choose, but im going with Lie Train. Top release!
Audionatica (Gon Records)
- Nice EP.. Thanks!!
Anderson Noise (Radio Noise / Noise Music)
- good stuff
SQL (Form / MBF)
- interesting!
Merlo
- All 3 Tracks are good, Lie Train is my pick on this one....Well Done Steve
James Monro (4DigitalAudio)
- lie train is a great track...thnx
Pena (Flow Vinyl)
- lie train is fine! hail to portugal!
Atmos
- Urban Techno at it's best. Will support! Tomasz balicki aka Dominic Thomas
Vladimir Acic (1605 / Italo Business)
- very good!
Mat (BUS Records)
- Lie Train got a solid groove and a very nice deep atmosphere. love it Two other sound really good and will support in my slower and deeper dj set. great package thanks 7/10
Sisko Electrofanatik (Neurotraxx)
- Big Big house groove! luv all tracks! support
Markus Schulz (Global DJ Broadcast)
- cool stuff thanks!
Diogo Ribeiro
- Fantastic EP!! Real quality here, all tracks work great, Juicy Chicken and Lie Train stand out for me, thank you
Listen and buy
@
BEATPORT
For more info please visit :
http://www.sweep181.com
https://www.facebook.com/SteveMenta
http://www.facebook.com/Sweep181
http://www.myspace.com/sweep181
http://www.youtube.com/user/Sweep181
Messages In This Thread
[SWEEP008] Steve Menta – Lie Train EP
- Sweep 181 - 2011-11-21 18:36:04