Can anyone suggest a night out for 7th or 8th Nov
2008-10-28, 13:20:28
haydnhaydn
Dancer
From:

Posts: 194
Joined: Feb 2006
A couple of my friends want a night out for their birthdays, preferably the 7th. Not been able to find much so far.

Erol in Brighton on the 8th's a bit of a possibilty but probably too far for us. We'll be mini-bussing it from milton keynes, so London is the best bet for us.

thanks in advance.

edit: disco/electro/techno
2008-10-30, 16:37:34
haydnhaydn
Dancer
From:

Posts: 194
Joined: Feb 2006
Anyone, pls? =)
2008-11-01, 20:46:10
Finx_1
Wallflower
From:

Posts: 277
Joined: Aug 2007
Well..
Alex metric and duke dumont are playing in Fabric..
That's always a good start.
I'm gunna see if I can make it to that
2008-11-04, 22:01:45
haydnhaydn
Dancer
From:

Posts: 194
Joined: Feb 2006
I looked at the fabric site and didn't even notice that, nice one.

Not sure whether we will be going anywhere now anyway.

Thanks for replying.
2008-11-05, 00:55:04
Erol in Brighton will be pretty mental.

Also got Filthy Dukes and Japanese Popstars on the bill.

Let me know if you head down, can probably sort some queue jumps out.
2008-11-05, 01:14:21
andy8271
I Am A DJ, I Am What I Play
From:

Posts: 5,346
Joined: Oct 2006
judging by the gazillion emails ive recieved after posting a "warehouse project tickets wanted" post on gumtree" you could probably get tickets for that fairly cheap
2008-11-05, 19:22:17
We are also playing LIVE @ Matter in London on the 8th November with Riton and Eric Prydz :)
2008-11-06, 00:01:27
his is the one we've all been waiting for!
INSTITUBES - The Parisian record label that specializes in serious club music.
November 8th sees the return of SURKIN's Label Mate and talent buyer for the Regine Club in Paris (formely known as PARIS PARIS) The man behind the awesome EURO GIRLS GO TO BALTIMORE compilation. We give you JEAN NIPON!
JEAN joined us back in February and those who were there will know he absolutely KILLED IT! That's why we've invited him back to show us how its really done;
Be warned...INSTITUBES STRIKES BACK!!!!
you can listen to his new Ep "Wild At Heart" (+ the video) at
http://www.myspace.com/anipon
Other DJ's on the night
Stopmaking Me (Kill Em All / Bugged Out)
Capture The Castle (Hard Kids)
Get Your Geek On (GYGO)
Jac the Disco (Last One In's A Rotten Egg)
Thick as Thieves (Voodoo)
333,
333 Old Street
Shoreditch
London
£5/£10
10pm - 4am
Guestlist: jacthedisco@googlemail.com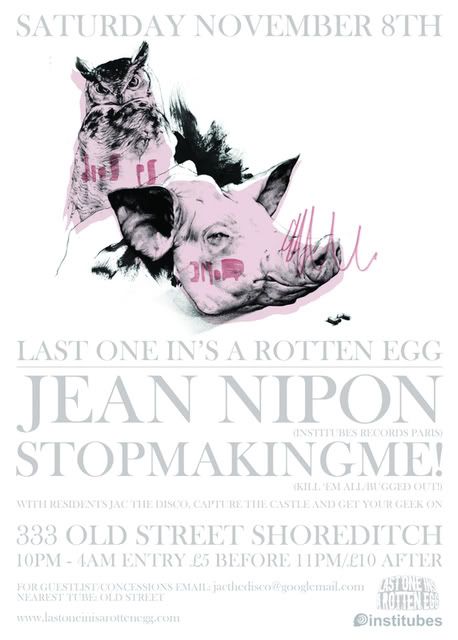 2008-11-06, 21:57:57
furthur
Still In The Cloakroom Queue
From:

Posts: 99
Joined: Jan 2007
if you want something dirt cheap, ie. free then we have a party on at the social, little portland street
absolutely nothing clever to it, couple of blokes getting pissed and playing disco/electro/random fun music
http://sluttyfringe.wordpress.com/2008/1...-politics/
2008-11-06, 23:06:18
haydnhaydn
Dancer
From:

Posts: 194
Joined: Feb 2006
thanks for all the suggestions

People have opted against going out now - which after all these suggestions seems a bit of a fookin travesty.
2008-11-07, 00:10:37
dont you just hate it when people let ya down!!