NYE SHOREDITCH IS SHIT VS LAST ONE IN'S A ROTTEN EGG! Massive Line Up!
2008-11-27, 12:23:56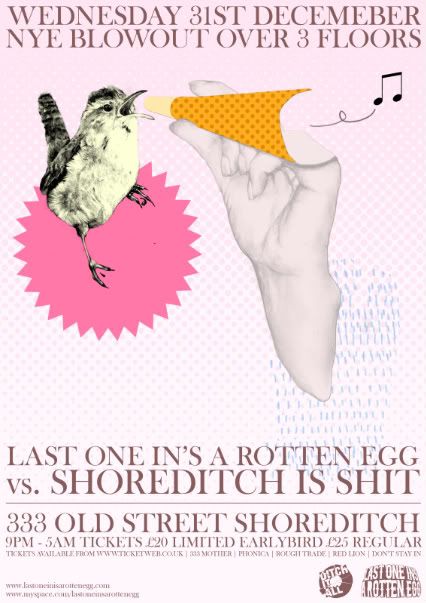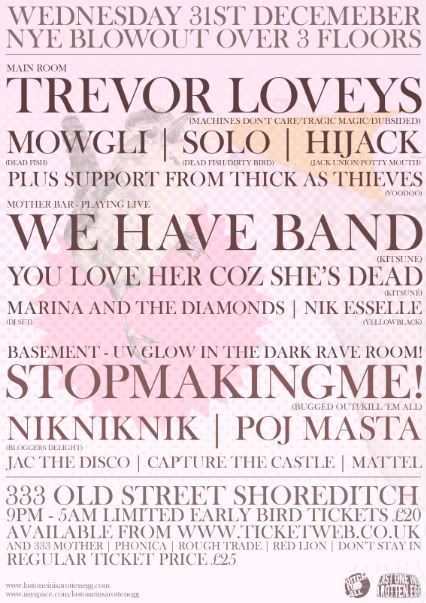 New Years Eve: Shit house parties. Being trampled to a pulp by the Southbank hordes in an attempt to catch a glimpse of a firework or two. The self loathing which comes with 'the best night of the year' having gone horribly wrong. Again.
Why on earth would you bother? Our thoughts exactly. This is why the good people at SHOREDITCH IS SHIT and LAST ONE IN'S A ROTTEN EGG! are teaming up to alleviate all your New Year's pain. Fear not over-hyped nights and inevitable disappointments, as we have taken the time to create a 3 floor manifestation of what New Years Eve should be about. Old fashioned immature glee, set to an achingly good soundtrack.
GLOW IN THE DARK ROOM
MIDNIGHT BALLOON DROP
FACE PAINTING
PARTY BAGS
FUN AND GAMES
STUDENT DISCOUNT ON DRINKS
Main Room
Trevor Loveys (Tragic Magic/Machines Don't Care)
Mowgli (Deadfish)
HiJack (Potty Mouth)
Solo (Dirtybird)
We're Not Cool!
Thick As Thieves
Mother Bar
We Have Band (Kitsune)
You Love Her Coz She's Dead (Kitsune)
Marina & The Diamonds
Poj Masta
MATTEL
Nik Esselle
Basement (Neon Rave Arena)
Stopmakingme! (Kill em All / Bugged Out / Fabric)
NIKNIKNIK (Bugged Out / Bloggers Delight)
Capture the Castle (Hard Kids)
Jac The Disco (Last One In's A Rotten Egg)
Our Mate Chris
9 - 6 @ 333
====================================
MONEY SHIZZLE -
Limited £20 Early Bird Tickets
Advanced price - £25
On the door - £30
You can pick 'em up from here -
TicketWeb (
http://www.ticketweb.co.uk/user/?region=...&year=108)
Phonica - 020 7025 6070
Rough Trade - 020 73927790
Or if you wanna save yourself a fiver, you can grab early bird tickets from 333/mother bar for £20, either pop in with your cash cash money or phone 020 7739 5949 or 020 77391800 and pay with your credit/debit cards. But be quick as they are selling fast!
===========================================
If you don't believe us when we say that it's going to be killer, let Time Out tell you instead -
http://www.timeout.com/london/clubs/even...-shit.html
2008-11-28, 12:42:27
NickC
Still In The Cloakroom Queue
From:

Posts: 81
Joined: Oct 2007
face painting!? say no more, I am there.
2008-11-30, 23:15:44
shakeyjake
Dancing Queen
From:

Posts: 822
Joined: May 2006
NickC Wrote:face painting!? say no more, I am there.
obviously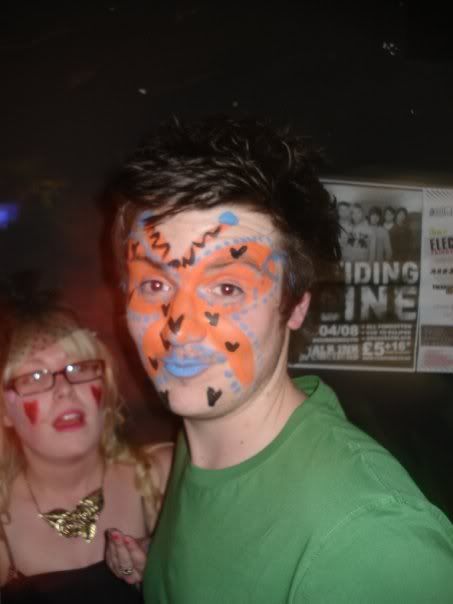 2008-12-01, 09:09:47
hahahahhahahaha
2008-12-15, 22:16:34
Can't freakin' wait.

Bass.
2008-12-15, 22:27:18
steve
John Travolta Circa 1978
From:

Posts: 3,402
Joined: Jul 2005
poj masta? i remember all them bastard pop dj sets
2008-12-26, 00:30:20
6 Days to go!!!!!