Thurs 5/3 Space Bass with Patrick Forge, FREE ENTRY
2009-03-04, 12:59:44
shokito
Dancer
From:

Posts: 143
Joined: Feb 2009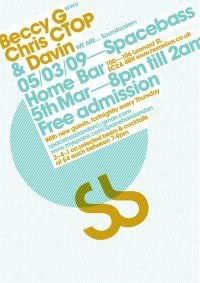 Thurs 5/3 Space Bass with Patrick Forge
We're massively happy to say that we will be joined at Thursday's party by the legendary Patrick Forge. Original DJ from Dingwalls seminal Sunday's Jazz Session, Kiss FM DJ and founding member of Brazilian band DaLata, Patrick will be playing his (un)usual mixture of braziliant beats, funk classics, jazz nuggets and anything else that takes his fancy. Now a resident of Japan, Patrick is breaking off from his holiday in the UK to play for us - what an honour!
The Spacebass residents, Beccy Grierson, Chris CTOP and Davin will be doing the business with their own special selections
FREE ENTRY, kicking off at 8pm, running til 2am. And.... 2-4-1 on selected beers and cocktails at £4 each between 7-9 !!!
Home 100-106 Leonard St EC2