The Countach Club 06 - Matt Walsh (Turbo Recs, Bugged Out)
2011-10-11, 21:49:32
ZILLO
Dancing Queen
From:

Posts: 667
Joined: Mar 2008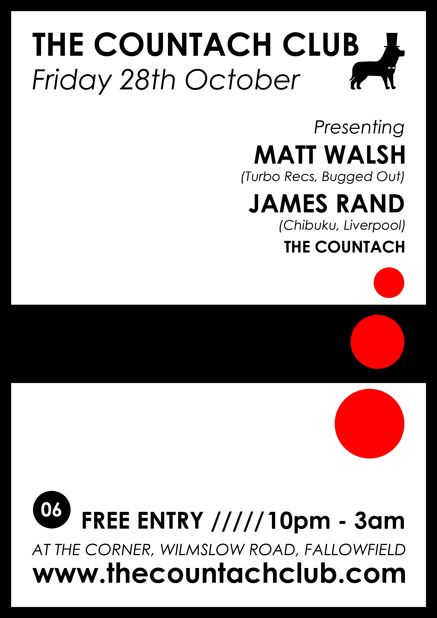 http://www.facebook.com/event.php?eid=272778802754733
This month we have some great news to announce.
People Get Real have joined our team as new residents who will be playing every other month for us in our NY style cocktail bar..... but with a killer sound system.
For our main guest on this night you will be entertained by the sounds of Matt Walsh who is one of the UKs best up and coming DJs. He has gone from rise to rise since first being spotted by Tiga then onto releasing records on the numerous labels such as Wax:On, Turbo, Meant and even being a mainstay at the ever growing Bugged Out. Recently his label Clouded Vision has been a growing little plant of futuristic sounds.
Lord James Rand of Chibuku stands tall for the warm up duties on this one. You can always expect jerky basslines and shuffling shuffles from Liverpool's only true superman lookalike.
The Countach also drops slow chuggers in random but well placed order.
Friday 28th October
Matt Walsh (Turbo Recs, Bugged Out, London)
James Rand (Chibuku, Liverpool)
The Countach
10pm - 3am
FREE ENTRY ALL NIGHT!
_____________________________________________
Links and mixes spamball section
http://soundcloud.com/mattwalsh
http://soundcloud.com/rabenmutter
http://soundcloud.com/the-countach
http://www.thecountachclub.com/